If you're in need of teeth restoration because you've lost some of your teeth, you should consider dental implants in Schaumburg.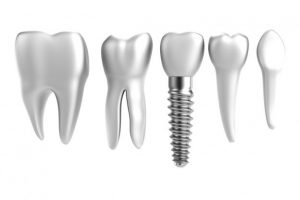 Dental implants are the most natural looking teeth replacement solution available today. See a qualified dental professional at The Dental Store for an implants consultation.
Dental implants in Schaumburg are an excellent way to replace missing teeth. They offer many wonderful benefits to patients including: they're natural looking, they're aesthetically pleasing, and they function like your own natural healthy teeth. Because they offer patients so many benefits, they are very popular among patients and dentists alike. However, they do have some qualifications for candidacy. Some requirements to qualify for implants include: good oral and overall general health, a strong healthy jaw bone and the ability to handle anesthesia and surgery. However, the dentist determines candidacy individual basis by after a consultation and evaluation. Therefore, if you are interested in implants, you'll need to see a professional dentist for an implants consultation.
If you're looking for a high-quality dentist who can assist you with dental implants, you're in the right place. You'll be in excellent hands when you join our practice, The Dental Store. We have many wonderful dentists on staff at The Dental Store. Our expert dentist offers many other quality dental care services in addition to dental implants. Some of them include but aren't limited to: the initial oral exam, teeth cleanings, caps and crowns, dental fillings, bridges, dentures, pediatric dental care, veneers, Invisalign, extractions, occlusal guards, sleep apnea, periodontal treatment and laser dentistry.
If you're considering dental implants in Schaumburg, you should consult with our dentist.  Give our office a call right now to book your appointment. We look forward to assisting you.