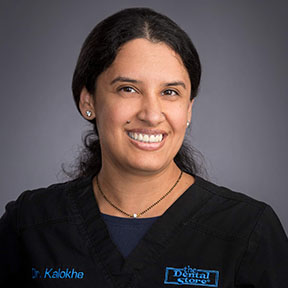 Dr. Sheetal Kalokhe grew up in India. She earned her Bachelor of Dental Sciences (B.D.S.) from Dr. D.Y. Patil Dental College and Hospital, Pune, India. After practicing dentistry in India, she completed her post graduate course in Endodontics from Case School of Dental Medicine, Cleveland, OH. She is board eligible and is a member of American Association of Endodontics, American Dental Association, Illinois State Dental Society, Chicago Dental Society and Indian Dental Association.
Dr. Kalokhe gets immense satisfaction by relieving a patient in pain and saving a tooth. She believes in treating every patient like family. Dr. Kalokhe is fluent in English, Hindi and Marathi.
Dr. Kalokhe lives in Chicago and in her spare time, she enjoys spending time with her two girls, listening to music, cooking and reading.

Dr. D.Y. Patil Dental College and Hospital
"Great dental office. Dr. Brenner is amazing!! He is gentle and always makes sure I am doing okay. The rest of the staff is very friendly and professional."
"Another great day at the Dentist! Yea, it's a weird statement but it's true😂Tanya makes sure my teeth 🦷 remain squeaky clean 😬 I definitely recommend the Dental Store 🙌"
"A very professional environment. Doctors are friendly and thorough. Every dental need in one office.
Jacqueline has been my hygienist for years along with Dr. Shulkin and Dr. Gelman . Best team for your dental care."
"The staff at the Dental Store are so professional and polite. I felt very comfortable. The explained and answered all my questions I am SO glad I found them I would highly recommend them for all of your dental care!"
"Dr. Brenner—One of the most proficient and professional dentists of my lifetime in the dental industry."
"Pediatric Dentist is just the best! He is so patient with the kids and works fast."