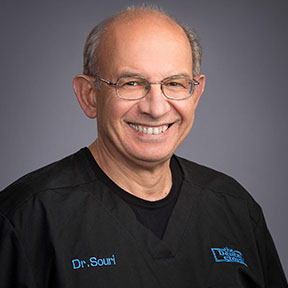 Dr. Ghassan Souri completed his postgraduate studies at Loyola University School of Dentistry in Maywood, Illinois and completed a Pediatric Dentistry Residency at Mott Children's Health Center/Hurley Medical Center in Flint, Michigan. He completed several post-graduate courses in Advanced Orthodontics and T.M.J. From 1995 – 1997, Dr. Souri served as Dental Technical Advisor to the Head Start/Child Care Program for the City of Chicago. As a consultant, he recommended guidelines to the Head Start/Child Care staff and parents for adapting and updating health policies and incorporating useful dental practices.
In addition to making presentations to parents on preventive dental hygiene practices at several Head Start sites, he co-authored the Dental Health Education Handbook for Head Start. Dr. Souri is a Diplomate of the American Board of Pediatric Dentistry as well as the Dental Director of Infant Welfare of Chicago. He has won several awards such as the Illinois Primary Health Clinician Devotion Award in 2002, the National Association of Community Health Center Award of Excellence in 2011, and the International Association of Pediatric Dentistry Award in both 1998 and 2001.
Being a dentist was always a dream of Dr. Souri's since his childhood. He enjoys dentistry because he believes that it is half science and half art. In his spare time he enjoys traveling and exploring different cultures with his daughter and son.

Loyola University School of Dentistry
"Great dental office. Dr. Brenner is amazing!! He is gentle and always makes sure I am doing okay. The rest of the staff is very friendly and professional."
"Another great day at the Dentist! Yea, it's a weird statement but it's true😂Tanya makes sure my teeth 🦷 remain squeaky clean 😬 I definitely recommend the Dental Store 🙌"
"A very professional environment. Doctors are friendly and thorough. Every dental need in one office.
Jacqueline has been my hygienist for years along with Dr. Shulkin and Dr. Gelman . Best team for your dental care."
"The staff at the Dental Store are so professional and polite. I felt very comfortable. The explained and answered all my questions I am SO glad I found them I would highly recommend them for all of your dental care!"
"Dr. Brenner—One of the most proficient and professional dentists of my lifetime in the dental industry."
"Pediatric Dentist is just the best! He is so patient with the kids and works fast."