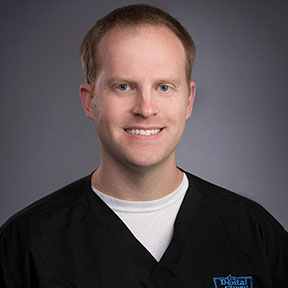 Dr. Scott is a general dentist who has been with The Dental Store since 2010. Dr. Scott is experienced in many facets of dentistry such as restorative and children's dentistry and he is always very excited to get to know, and treat new patients. His friendly and welcoming style continues to surpass customer expectations, leaving them comfortable and ready for their next check-up.
Dr. Scott originally grew up in the suburbs of St. Louis, Missouri. He then moved to Chicago where he attended and graduated from Loyola University Chicago with his B.S. in Biology in 2005, graduating Summa Cum Laude. He received his D.D.S. from the University of Illinois Chicago, College of Dentistry in May 2009. Since graduation, Dr. Scott has gained extensive experience in all phases of general dentistry and keeps up to date with current technology and advancements through continuing education.
Dr. Scott currently lives in Glen Ellyn, Illinois with his wife of 10 years, Leah, and their three young children. His hobbies include traveling, movies, football and spending time with family and friends.

University of Illinois Chicago, College of Dentistry
"Great dental office. Dr. Brenner is amazing!! He is gentle and always makes sure I am doing okay. The rest of the staff is very friendly and professional."
"Another great day at the Dentist! Yea, it's a weird statement but it's true😂Tanya makes sure my teeth 🦷 remain squeaky clean 😬 I definitely recommend the Dental Store 🙌"
"A very professional environment. Doctors are friendly and thorough. Every dental need in one office.
Jacqueline has been my hygienist for years along with Dr. Shulkin and Dr. Gelman . Best team for your dental care."
"The staff at the Dental Store are so professional and polite. I felt very comfortable. The explained and answered all my questions I am SO glad I found them I would highly recommend them for all of your dental care!"
"Dr. Brenner—One of the most proficient and professional dentists of my lifetime in the dental industry."
"Pediatric Dentist is just the best! He is so patient with the kids and works fast."