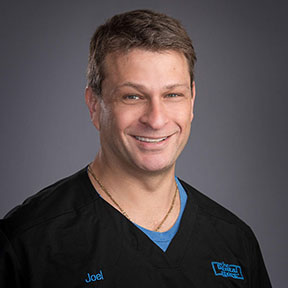 Joel Cohn
Office Manager
This is the best career, because I love helping people! Plus, working with incredible doctors, a fun team, and most importantly our wonderful patients makes each day a pleasure! Taking on a management role and learning from Marlene Garfield, a spectacular role model, has been an exciting challenge. After years of training, successfully completed actuarial exams, obtaining multiple designations (FSA 2003-2013, CFA 2006-2016, and MBA 2007), and a 20+ year career working as an actuary, I decided to make a life change and join my wife and brother-in-law in managing our family's dental office. More recently, I've been working on this new endeavor where we've created a new partnership, Dental Design. Now, I'm closer to home, see more friends and family as patients while working in the office, and have joined a wonderful team where all our efforts surround serving our fantastic family of patients.
 On a personal note, I reside a few minutes from the office in Riverwoods where I live with the love of my life and my wife – Beth, and our four adorable children (Jordyn, Jacob, Samantha, and AJ). So, as to be expected with young children, I am always running around after them. With the few minutes of personal time I get, you can find me playing basketball, golf, cards, heading to the movies or theater, or just having a nice dinner with friends.
 Please stop in and say hello, I look forward to meeting each and everyone!
"Great dental office. Dr. Brenner is amazing!! He is gentle and always makes sure I am doing okay. The rest of the staff is very friendly and professional."
"Another great day at the Dentist! Yea, it's a weird statement but it's true😂Tanya makes sure my teeth 🦷 remain squeaky clean 😬 I definitely recommend the Dental Store 🙌"
"A very professional environment. Doctors are friendly and thorough. Every dental need in one office.
Jacqueline has been my hygienist for years along with Dr. Shulkin and Dr. Gelman . Best team for your dental care."
"The staff at the Dental Store are so professional and polite. I felt very comfortable. The explained and answered all my questions I am SO glad I found them I would highly recommend them for all of your dental care!"
"Dr. Brenner—One of the most proficient and professional dentists of my lifetime in the dental industry."
"Pediatric Dentist is just the best! He is so patient with the kids and works fast."