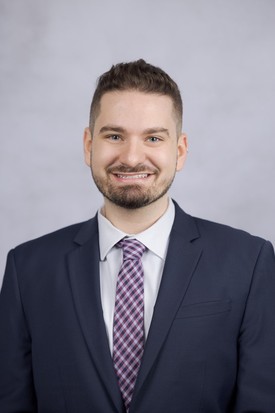 Introducing Dr. Brian Currie: Your Smile's Superhero!
Step into the world of dental magic, where oral health meets heartfelt care. Dr. Brian Currie, a dynamic general dentist, graduated at the top of his class from UIC College of Dentistry armed with a passion for dentistry that knows no bounds. Dr. Brian also received his Bachelor of Sciences degree in Molecular Biology from Loyola University Chicago, where he graduated Cum Laude. Get ready to embark on a smile-transforming journey with a touch of inspiration and a whole lot of fun!
With a beaming smile and a heart brimming with compassion, Dr. Brian is a true champion of patient care. Their greatest joy lies in the ability to brighten lives, one smile at a time. Beyond the dental chair, they believe in fostering lasting connections, treating each patient like a cherished friend. Because at the heart of dentistry is not just crafting pearly whites but creating a warm, welcoming atmosphere where people feel truly cared for.
When Dr. Brian isn't bringing smiles to life, they are living their own life to the fullest! Family, friends, and great music hold a special place in their heart, and you'll often find them embracing the beauty of togetherness. Whether it's cozy gatherings, laughter-filled moments, or making memories to last a lifetime, they know how to cherish those closest to them.
And who could forget Dr. Brian's trusty companion: their Beagle, Bailey! This four-legged friend is an inseparable part of Dr. Brian's life. Together, they embark on long walks, exploring the world and appreciating the simple joys it has to offer. Nothing beats the companionship and unconditional love of a loyal furry friend.
Beyond their dedication to patient care and personal pursuits, Dr. Brian is deeply involved in organized dentistry. Their unwavering commitment to the profession shines through their passionate involvement in dental communities, staying at the forefront of advancements, and spreading knowledge like confetti.
So, dear patients, welcome to the realm of extraordinary smiles, where Dr. Brian and their team of dental superheroes are ready to make your dental dreams come true. With their compassionate touch, infectious enthusiasm, and commitment to excellence, you're in for an exceptional dental experience that will leave you grinning from ear to ear.
Come join Dr. Brian Currie's dental adventure, where every appointment is an opportunity to unleash the magic of your smile and discover the joy of dental care done right.

University of Illinois College of Dentistry