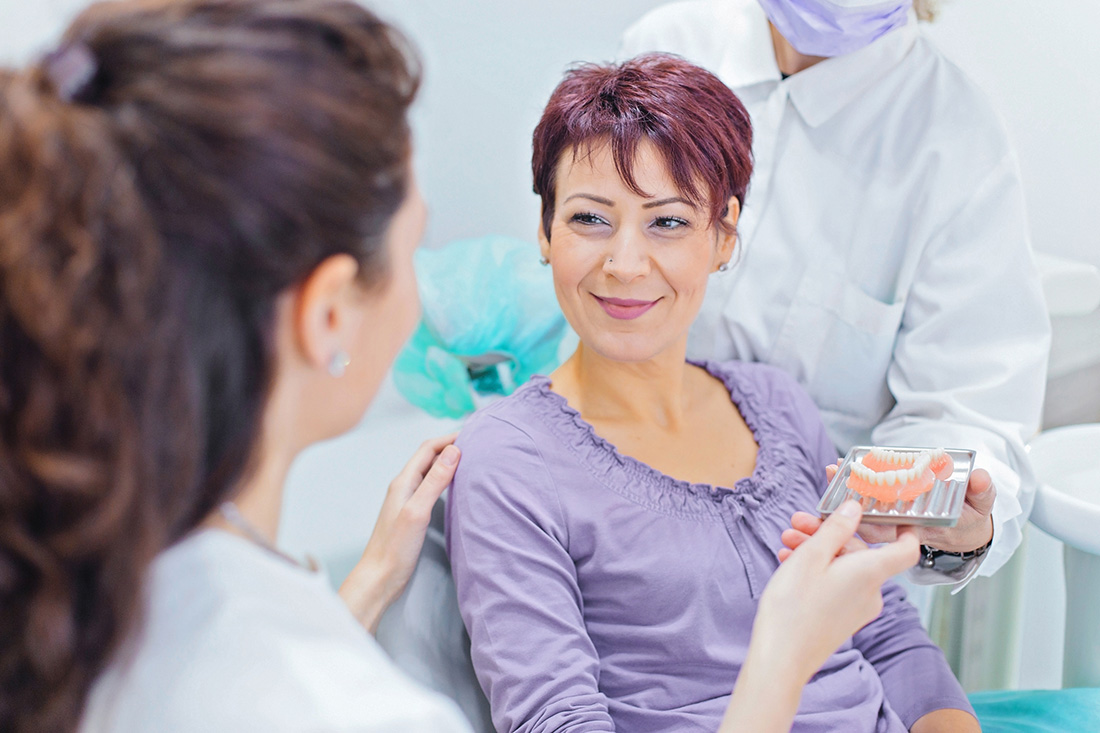 Teeth provide both function and aesthetics. We need our teeth to talk properly and to be able to chew our food to maintain a healthy diet. They are also important to our looks and first impressions. People who smile often are happier, less stressed and appear younger in age. (Yes! Just from smiling!) But what if you're missing most, or all, of your teeth? What options do you have to replace them, to feel confident, be able to smile and also be able to chew food and have optimal function again? Dentures or Implants? Why not both?
Dentures
Dentures are a great replacement for missing teeth, especially when you're missing many, or even all, of your teeth. They help to fill in your lips, balance your bite and give you back chewing function. Without replacing missing teeth the muscles of the face can weaken, sag and cause wrinkles in your skin. But often dentures do not fit well, flop or fall out when chewing and talking. Denture adhesive is an option, but is not a permanent fix. And you're left with a mouth full of sticky glue to clean off your gums before bed.
Implant Supported Dentures
Dental implants have been an excellent option to replace single teeth for many years. Recently, implant supported dentures have become the gold standard when replacing the entire lower arch of teeth and is a great option to replace upper teeth as well. The procedure combines dental implants, which are either titanium or ceramic, that screw into the jaw bone permanently and dentures which are a cost effective way to give a patient back their smile.
Putting the two together are the best of both worlds. You get better retention for chewing and speaking plus a natural looking smile and beautiful aesthetic. Implant supported dentures are just as secure as natural teeth so you can feel comfortable chewing steak and biting into an apple. Without implants a traditional denture only provides 20% chewing capacity whereas an implant supported denture has up to 95% chewing capacity when compared to a full set of natural teeth.
Are You A Candidate?
Most patients are unaware that they would be a great candidate for an implant supported denture. With a 3D Cone Beam scan dentists can determine the exact depth and width of your jawbone. Implants come in various sizes and are selected on a case by case basis. When you have lost bone density, width or height, bone grafting can be incorporated into your surgery to build the jaw back up before implants and a denture. To find out if The Dental Store can help you with an implant supported denture, give us a call and come in for a denture consultation. We look forward to helping you.