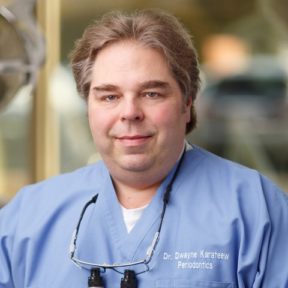 Dr. Karateew completed dental school at Columbia University School of Dental and Oral Surgery (now the College of Dental Medicine) in New York City. This was followed by Certificates in both Periodontics and Fixed Prosthodontics from the University of Pennsylvania in Philadelphia.
Prior to joining The Dental Store, he practiced for over 20 years in his hometown of Vancouver, Canada maintaining a practice which focused on Periodontics, Prosthodontics, and Implant centered dentistry. In his private practice, he has placed and restored over 8,000 dental implants. Currently, he is a Clinical Associate Professor and the Program Director of the Advanced Education in Periodontology (Residency program) at UIC College of Dentistry in Chicago Illinois, where he is involved in both the education of the postgraduate Periodontology residents as well as with clinical research. Dr. Karateew has earned the status of a Diplomate of the American Board of Periodontology and Implant Surgery and is an elected Fellow of the Academy of Osseointegration.
He and his wife, Dr. Mitra Sadrameli (Oral and MaxilloFacial Radiologist), are relatively new transplants to the Chicago area. From their urban apartment in the city center, Dwayne and Mitra are enjoying exploring Chicago and absorbing its history and architecture. Dr. Karateew enjoys: Fly Fishing, Downhill Skiing, Golfing and Gourmet Cooking.

Columbia University School of Dental and Oral Surgery
"I went to the Schaumburg Dental Store office with my wife and granddaughters. We had various treatments done, from cleaning to brace fittings, and we all left with smiles on our faces from the wonderful experience. The staff is friendly and dentists are very caring."
"HOLY MOLAR! Dr. Gelman ROCKS!!! He handles all of our dental needs. He handled my daughter's Invisalign. Brace yourself… her teeth are PERFECT! If you're looking for a great tooth guy, Doc Gelman is your man! Go see him at the Dental Store in Schaumburg!"
"Dr. Scott explained what he was going to do and provided me with a pain-free, pleasant, professional experience."
"In all my years, this is the best dental office I have ever visited. They are organized, friendly, helpful with insurance issues, and the dentists and technicians do great work."
"Dr Glen, is awesome. I am the biggest chicken when it comes to dentists and he manages to make me feel at ease. He is also a perfectionist and ensures that everything is done just right."
"Root canals are never fun, but Dr. Kakokhe explains what to expect at each step. She is kind and considerate and made the procedure easy to endure."